La Yesca Dam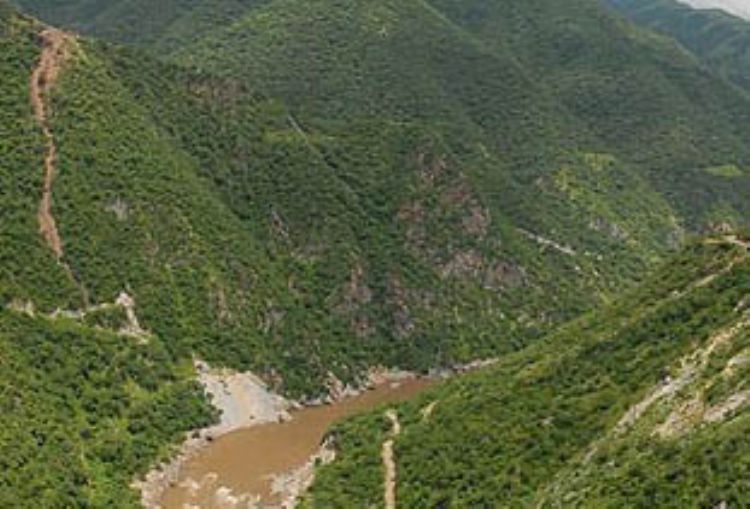 Hydroelectric dam La Yesca is located 105 kilometers northeast of Guadalajara, between the States of Jalisco and Nayarit. Its construction will create 10,000 jobs and cost 767 million dollars. When fully functional, this dam will contribute 750 megawatts to the national electric system of renewable energy, 15% of what Jalisco requires per year. This federal project is part of the hydrologic system known as Santiago, which includes Agua Milpa, El Cajón and Santa Rosa Dams. When La Yesca is incorporated into the system, these will result in 2550 megawatts of renewable energy.

Its construction is divided into four parts: river detour, curtain, spillway and machines. On January 22, 2008, president Calderon officially initiated this great work of Mexican engineering.

For the creation of this dam, it is necessary to first detour River Santiago through two tunnels developed to oust 5,730 square meters of water per second. After the river's detour, a curtain 220.5 meters high will be built, one of the tallest in the world. This detour is carried out through two 14 by 14 meter wide tunnels measuring 830 and 870 meters long, the equivalent of 8 consecutive football fields. These dimensions are enough to drain 5730 cubic meters per second, the equivalent of supplying the water needs of Mexico City 100 times.

This mega construction responds to Calderon's energy project. La Yesca Dam will be the second greatest hydroelectric generator in the country and could be fully functional by 2012. Calderon has stated that investing in infrastructure is his government's policy for facing the world financial crisis and he is betting on clean energy; although he didn't mention the environmental damage that will be caused by River Santiago's detour.




Article Produced by the Editorial Team of Explorando Mexico.
Copyright: Explorando Mexico. All Rights Reserved.
Image: Federal Government Press Release.