Miguel Hidalgo, Mexican Independence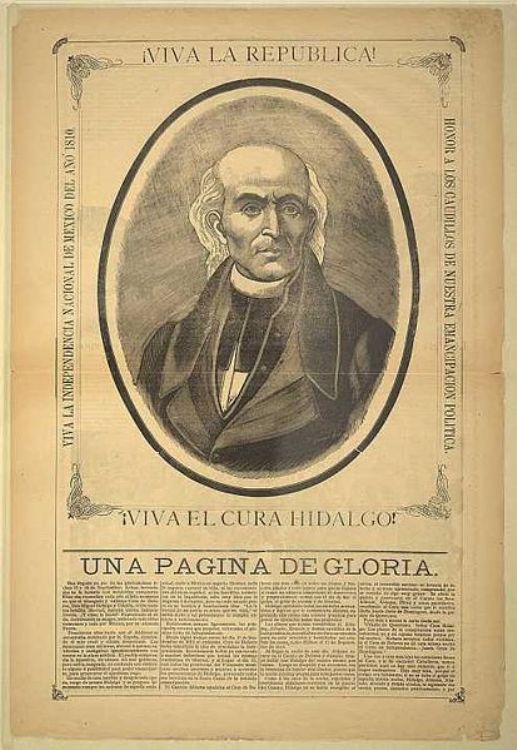 Miguel Hidalgo is one of the most recognized characters in the movement for Mexico's Independence. His full name was Miguel Gregorio Antonio Ignacio Hidalgo y Costilla y Gallaga Mondarte, born in Guanajuato in the town of Penjamo on the 8 of May, 1753. His parents were Ana Maria Gallaga and Cristobal Hidalgo y Costilla, both Spanish.
He studied at Colegio de San Nicolas Obispo, where he continued to become a professor on topics like philosophy and theology, culminating with theSchool's rectory. He was ordained in 1792 and sent to Dolores Hidalgo.
Back then, the ideas of liberalism had permeated among the Creole class of New Spain, movement joined by the priest of Dolores and consolidating in the conspiracy of Querétaro struggling for Mexico's independence.
This is how one of the most important episodes in the country's history began, although many other characters have remained almost anonymous even though they contributed resources and organization in support of the movement,Hidalgo is recognized for having reacted together with others such as Ignacio Allende, Juan Aldama and Mariano Abasolo, among others, to the call of Doña Josefa Ortiz de Dominguez who warned that the conspiracy had been discovered.
This is how, with the power to call others, Miguel Hidalgo y Costilla on the morning of September 15 in 1810 summoned the town to start the movement that would give Mexico its independence, even though he didn't live to see its culmination.
The movement's first advance, however, is owed to Hidalgo and military men, their troops left Dolores, reached Atotonilco in San Miguel de Allende, then known as "El Grande", directing towards Celaya, Salamanca and finally Guanajuato.
At the Alhóndiga de Granaditas there was another confrontation between the Spanish and insurgent troops, the first were defeated, so Miguel Hidalgo went on to Valladolid, which was also among the most important places taken back then. Valladolid is important because that's where they planned overtaking the Capital of New Spain, where all the central powers were represented.
Along his path, on August 30 in 1810, the battle of Monte de las Cruces took place, already close to the capital, where he was triumphant, however, this gave Hidalgo an excess confidence and sent his troops to Ixtlahuaca, wasting the weakness he had left in the city.
His plan was to attack the realist troops by surprise and to not confront them in the capital, which lead to a confrontation at Puente Calderón, where he didn't gain an advantage, returning to the country's north. Along his path, at Acatita de Bajan, he and his troops suffered an ambush because their route had been announced to realist troops, making them prisoners.
The date of his detention was registered in history as the 21st of May in 1811, when they were taken to Chihuahua, where they would first execute Ignacio Allende, Juan Aldama and Mario Jimenez, on June 16 of that same year. Hidalgo was executed later, on July 30 of 1811. However, the struggles and ideals of the leaders were not forgotten and although their armed battle culminated in 1821, the figure of the Priest of Dolores continues to be transcendental for its meaning and the way he strengthened the struggle for independence.
For many, Hidalgo wasn't the history's hero known by almost everyone, however, and despite his detractors, for Mexicans the leaders who made independence possible are kept away from critics and secret history; they are venerated for the great value of freedom in an independent country.
Artículo Producido por el Equipo Editorial Explorando México.
Copyright Explorando México, Todos los Derechos Reservados.
Foto: Wikipedia.org