The Legacy of Luis Nishizawa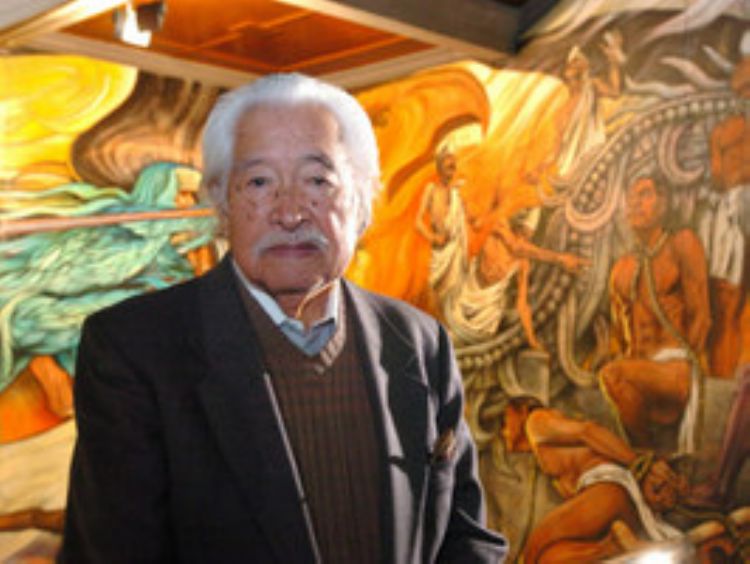 Son of Japanese Kenji Nishizawa and Mexican Maria de Jesus Flores, Luis was born at Hacienda de San Mateo, in the municipality of Cuatitlán, Mexico State, in February 1918.

In 1925 he moved with his family to Mexico City, where he studied music and manufactured jewelry. In 1942 he enrolled in San Carlos Academy, where he studied under Julio Castellanos, José Chávez Morado and Alfredo Zalce. In 1947, he graduated with the title of Master of Plastic Arts and started teaching at the National School of Plastic Arts, where at 90 years of age, he continues to wisely share his techniques with many generations of artists.

He was part of the nationalist trend of the Mexican School of Painting, but has constantly worked towards freeing his art, spanning from expressionism to abstractionism.

His work masterly blends his Mexican and Japanese roots, skillfully communicating emotions with colorful figures. He has been a muralist, painter, drawer, stained-glass window maker and sculptor.

Among the multiple awards he has received, Nishizawa was named Master Emeritus and Doctor Honoris Causa by Universidad Nacional de México, he received the National Prize of Arts, he is a Numerary Member of the Academy of Arts and Member of the National Creators System of the National Council for the Culture and the Arts; also, Japan named him "Sacred Treasure of the Dragon".

In 1992, in recognition of his artistic legacy to the national cultural heritage and his educational career for more than 50 years, the State of Mexico created the Museum-Workshop Nishizawa.

He tragically received his first invitation to color, astounded at a very young age by the colors of the flowers that decorated his brother's coffin; the bright yellow of that image forever follows him while painting.

His first works were true to the themes of great muralists, until his own paths took him to absolute abstractionism in order to reach poetic figures. He states that the two artists with the greatest influence on him have been José Clemente Orozco and Rembrandt. He has also explored the poetic art of haiku, displaying that formula of briefness in a famous series of twenty-five works.

Outstanding among the hundreds of works by this wonderful painter are Nocturno, Mirasoles, El sueño del niño bobo, La pasion de Iztapalapa, Retrato de María, Mi hijo Gabriel, Mi pequeña Adriana, Self-portrait and a ceramic mural he created in Keisei, Japan; he exhibits through all of them a game of fantasy with everyday life, in an attempt to synthesize human thought.

He is recognized as one of the main Mexican landscapers and for the subtle atmosphere and texture of his paintings.

The National Museum of San Carlos held an important exhibit of his works, titled "Of landscapes and dreams. Luis Nishizawa 1918-2008", showing the long and fruitful career of this great creator along his 90 years of life. This exhibit gathered portraits of Mexican geography, especially the famous volcanoes of Valle de Anahuac; added to a series of large format ink drawings he created from 1970 to 1972, and a group of expressionist designs titled "The cows skinny and the dreams broken" that display his introspective and somber vein. He used a Japanese drawing technique, with paper and ink different from Mexican materials.



Artículo Producido por el Equipo Editorial Explorando México.
Copyright Explorando México, Todos los Derechos Reservados.