Best Golf Courses in Mexico, The Mayan Riviera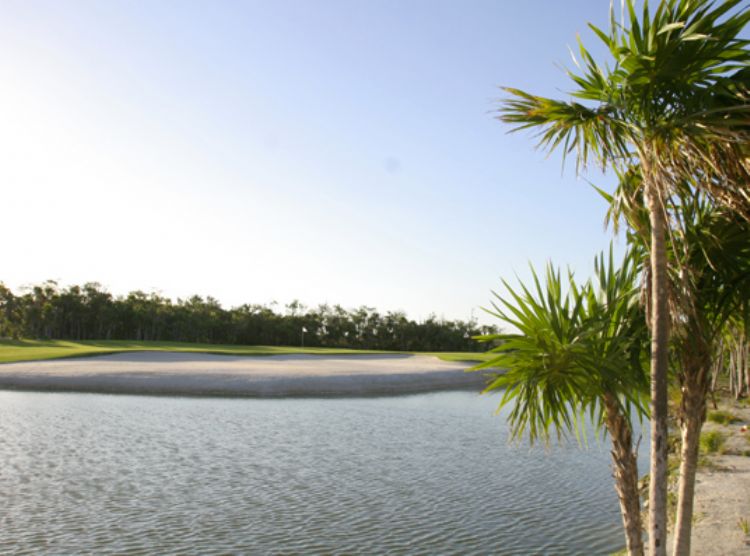 Playa Mujeres This is one of the most exclusive tourist resorts in México, located in the Riviera Maya, and offering high quality services. Natural beauty, exotic species, the combination of the sea and lagoon make the scenery an extraordinary Caribbean jewel.

Greg Norman, the popular golfer and designer gives a magic touch to the course with its impeccable fairways, which merge into majestic lakes and lagoons.

This course undoubtedly sets the trend of the new impressive Mexican developments for first class service and harmony with nature. Test your precision and control in the wild winds of the zone and enjoy an unforgettable experience. This paradise is found 25 minutes from the International Airport of Cancún, and you can admire Isla Mujeres across the coast. The green fee ranges between US$185 from May to October, and the rest of the year is US$230. Covering 7,218 yards is fast when in a paradise like this one!

Iberostar Riviera Maya, Dye Designs

For those golf lovers who follow the PGA Tour, Pete Dye is a well-known name. Every May the best players in the world struggle on his famous and challenging course, TPC Sawgrass, in the 5th most important tournament in the world of golf, The Players Championship. In Mexico you can have a taste of the wonders of this golfing legend's design company in one of the most challenging courses in the Riviera Maya: The Iberostar Golf Course.

Taking advantage of the surrounding virtues in this paradisiacal Mexican destination, this course boasts 18 world class holes which will offer you a great golfing experience. The course is located between Cancún and Playa del Carmen in the state of Quintana Roo. The green fee for the public costs US$190, and US$125 for guests of Iberostar hotels.

El Camaleón Golf Course


Simply spectacular, and naturally inspiring! We are lost for words to describe this magical getaway in the Mexican Riviera Maya. The fact that El Camaleón is the host course to the one and only PGA Tour, part of the FedEx Cup, which continues to be played in Mexico, is a very promising title which guarantees a special place. But this course offers something more… Deep pools, rocky formations, mangroves, turquoise lagoons, perfect greens…wonderful things that make this course a national golfing and tourist treasure. Greg Norman delights us and offers us a challenge worthy of being part of the PGA tour, at our disposal.

El Camaleón is between Playa del Carmen and Cancún, a little bit closer to Playa (20 minutes by car). If you decide to visit this paradise you won't regret it… don't forget to admire the deep pool in the fairway of Hole 1, the enormous iguanas around Hole 2 and the exceptional view of the Mexican Caribbean from Hole 14, however, if the wind starts blowing it's going to be difficult to leave it near the hole! The green fee ranges between US$180 to US$225 depending on the season.

Moon Palace Cancún


Moon Palace Cancún is one of Jack Nicklaus' truly spectacular creations. A "signature golf course" by the best player of all times, lies between the extensive mangroves and diverse Mayan vegetation in the paradise region of Quintana Roo. Par 72, these 18 holes covering 7,165 yards give a special touch to the sport of golf in Mexico. The special thing about this course is that it is spectacular without needing a coastline. Its championship design, impeccable fairways and the magical integration that it has with its surroundings make it a unique getaway to enjoy an extraordinary day of golf. The green fee is US$250 – an excellent price to enjoy a Mexican golfing jewel!!!



Artículo Producido por el Equipo Editorial de Explorando México.
Copyright: Explorando México. Todos los Derechos Reservados.