Spring Break in Mexico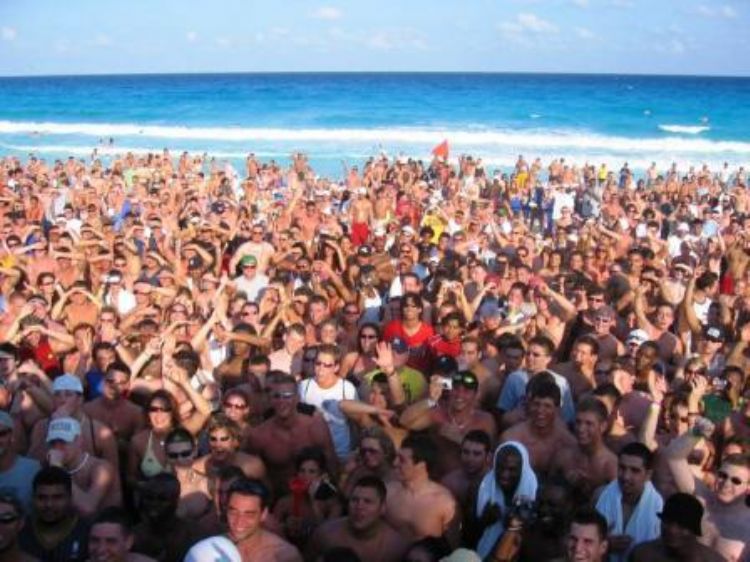 Spring Break 2009 will be from February 28 to April 5 in the United States. The most popular destinations in Mexico for American tourists during this season are Cancun, Acapulco, Cabo San Lucas, Puerto Vallarta and Mazatlan. Tour operators offer packages that include lodging, meals, entry and unlimited drinks at the best night clubs, increasing the interest of students who are still too young to drink legally in the United States.

Thirty years ago, Cancun was only a desolate beach on Yucatan Peninsula, but has now become the most popular destination for North American students during spring break. During 2005, more than 2.5 million students traveled to a beach for spring break, spending more than a million dollars and drinking an average of 20 alcohol beverages per night each. In 2009, it is estimated that 30 thousand people will visit Cancun, the same as last year.

Acapulco is another popular destination to vacation during this season. For 2009, this beach awaits the arrival of 22 thousand tourists. During the second week of February, Acapulco's hotels registered a 71% occupancy. According to information from travel agencies, there are reservations for 8 thousand students flying to Acapulco, mostly from New York, Minneapolis, Miami, Chicago and San Antonio. Acapulco's Airport reported that US Airways and Miami Air will operate 31 flights over the five weeks of spring break.

Due to the strong devaluation of the Mexican peso, Mexico is now more attractive than ever for North Americans. It is one of the few national industries that haven't been strongly affected by the US crisis. In 2009, the tourism industry faced the crisis by designing a series of plans for all budgets, searching to compensate with volume the contracts celebrated between hotels, restaurants and tour operators with foreign travel agencies. This is why tourists are recommended to plan their vacation plans at travel agencies, in order to find the best price and quality deals.

Airlines have also lowered their prices in order to face a 6.6% decline in the number of tourists traveling in 2009. Globally, hotel and air fares are 15% lower than in the same season of the previous year.

Artículo Producido por el Equipo Editorial Explorando México.
Copyright Explorando México, Todos los Derechos Reservados.