Mexico City's Turibus, Tourist Bus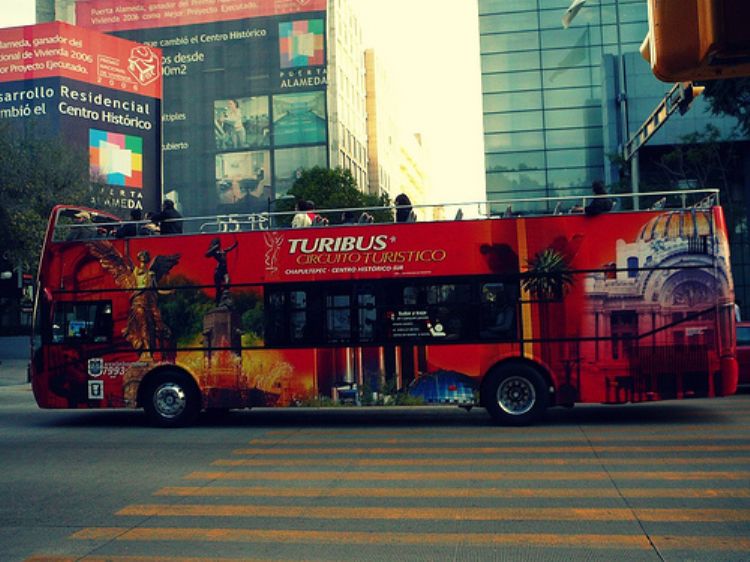 Turibus is a panoramic passenger double deck bus that travels through some of Mexico City's most beautiful areas. This bus offers a fun experience to oversee, from the comfort of your seat, the great city's racket. With a capacity for 71 passengers, 53 of them can ride on the outdoor second floor.

The Turibus can be boarded at any of the stops it makes throughout its journey, in areas clearly signaled and safe, from 09:00 to 21:00. Tickets are paid on board. Each passenger receives a personal audio guide. With the best tourist services, this audio guide is available in six languages: Spanish, English, French, German, Italian and Japanese.

The route lasts approximately two and a half hours and tickets cost around $100 pesos. Users can get on and off the bus at any of its stops, they can even stay at a place they find interesting and get back on another Turibus a few hours later.

The most relevant places that can be enjoyed through this very practical ride to learn about one of the greatest cities in the world are National Auditorium, Museo Tamayo Modern Art Museum, Condesa Area, Plaza Madrid, Casa Lamm Culture Center, Independence Monument, Glorieta Colón, City Square, Manuel Tolsá Plaza, Franz Mayer Museum, San Fernando Plaza, Anthropology Museum, Presidente Masaryk and Campos Elíseos streets, Chapultepec forest, Lago Mayor, Tláloc Fountain, Natural History Museum, Technological Museum of the Federal Electricity Commission, Papalote Children's Museum and the Chapultepec Fair.

Obviously, the best views for taking photographs of this spectacular metropolis are enjoyed from the second floor, but you are exposed to the weather conditions; especially to smog, sun and summer's frequent rains. Many tourists face the rain with a simple raincoat and continue enjoying the sights.

Turibus will soon also offer night tours from Friday to Sunday. With this new schedule, tourists can have an overview of the city's night life and know the most important bars and restaurants. This route includes services of safety on board and bilingual guide. Tourists can get on and off the bus as many times as they wish so they can stay and enjoy each place. Turibus will have two night routes: Insurgentes – San Ángel – San Jerónimo with 12 stops and Condesa – Polanco with 23 places of interest.

These huge red double deck buses are clear to see among the hundreds of cars that fill the city's main streets. Most notable is their passenger's rhythm and attitude. The passengers of these peculiar red buses seem confused by the car drivers that zoom by without noticing the landscape, only worried about getting to their destination as fast as possible. Tourists take pictures from their comfortable seats, as if the great city's daily life were a mere theater play.